PYLA. The unique mixed village in Cyprus, which is in suspense, in the Buffer zone, between the two communities. It is under the monitoring of United Nations and it hasn't been occupied by the Turks intruders in 1974.
A couple with their young son live in a seaside industrial area. A wooden case full of coins which the kid comes across while playing with his wheel gives rise to hopes for a better future.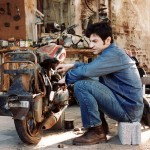 What course is there to follow for an artist who -according to his own words- loved life more than art without the slightest compunction? Which may be the dilemmas and enigmas of a painter who had never been under the protection of galleries and art dealers?
"My First Time" is a film about pregnancy. It's about how a woman feels when she enters into that particular period in her life when adversities, emotion and new experiences overwhelm her. It's about all the things for which you cannot find the answers in books but that pregnant women share with each other.
In wintry Athens, a mysterious Japanese girl goes somewhere on public bus. We look at her face and notice that it twitches, until a tear falls from her eye…
Veta Betini, well-known actress and lyricist, tells the story of her life to the camera and how,despite her bulk , she managed, through humor, to make a career in entertainment .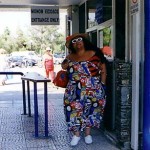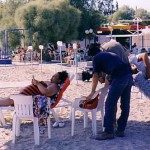 Maro and Natalie, bonded by friendship for years, are setting out on a holiday.
Durig their journey, a series of events are going to take place, which will give them plenty of reason to take a closer look at life from a different perspective.
Christmas Eve. A young couple invites Santa Claus to supper.
The dull life of a retired tailor completely changes when a filmmaker comes to make a documentary about him.
In the heart of modern Athens, next to the gridlocked traffic and roar of the city centre there is also another world: the "national garden" with its lush vegetation, tall trees and winding paths, resembles a hidden paradise beyond time and place.