PYLA. The unique mixed village in Cyprus, which is in suspense, in the Buffer zone, between the two communities. It is under the monitoring of United Nations and it hasn't been occupied by the Turks intruders in 1974.
What course is there to follow for an artist who -according to his own words- loved life more than art without the slightest compunction? Which may be the dilemmas and enigmas of a painter who had never been under the protection of galleries and art dealers?
"My First Time" is a film about pregnancy. It's about how a woman feels when she enters into that particular period in her life when adversities, emotion and new experiences overwhelm her. It's about all the things for which you cannot find the answers in books but that pregnant women share with each other.
In wintry Athens, a mysterious Japanese girl goes somewhere on public bus. We look at her face and notice that it twitches, until a tear falls from her eye…
Veta Betini, well-known actress and lyricist, tells the story of her life to the camera and how,despite her bulk , she managed, through humor, to make a career in entertainment .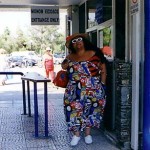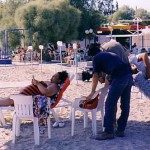 In the heart of modern Athens, next to the gridlocked traffic and roar of the city centre there is also another world: the "national garden" with its lush vegetation, tall trees and winding paths, resembles a hidden paradise beyond time and place.
During the winter of 2000, the students of a high school in Keratsini – an industrial city near Athens full of social and economical problems -decided to stage a play and videotape the whole process. Thirty students aged 15 worked for this project creating a play based on their own experiences and lives.
Philo is a great Greek sculptor, devoted to his art and married to Marina. He has been living and working in the suburbs of Paris for the last fifty years.
An unexpected incident will change everything and the only thing that now can find the solutions and give a new meaning in their life is love.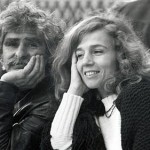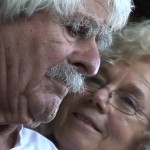 A restless and inquisitive spirit, a foe of academics and the establishment, Petropoulos was the first folklorist in Greece who dealt with social outcasts and described people and situations ignored by his country's official history.
He lived next to rebetika singers, bums, street-urchins, whores and sissies, prisoners and underground people who became the heroes of his books: The Brothel, Kaliarda (an Etymological Dictionary of Greek Homosexuals' Slang ), The Handbook of the Good Thief, The History of the Condom, The Rebetika Songs, The Holy Hashish and others.

Υπόθεση: Από τη μία πλευρά έχουμε τον Τζάστιν Χάμερ, ιδιοκτήτη μίας μεγάλης εταιρείας παραγωγής όπλων, που βλέπει τον εαυτό του ως τον επόμενο Τόνυ Σταρκ και από την άλλη τον Βάνκο, ο οποίος αν και έγκλειστος σε μία Ρωσική φυλακή κατασκευάζει μία φονική μηχανή, παρόμοια με τον γνωστό Άιρον Μαν. Οι δυο τους θα ενώσουν τις δυνάμεις τους εναντίον του γνωστού πια σε όλους για τη διπλή του ταυτότητα, Τόνυ Σταρκ…